It's finally almost winter, and with the holiday season just around the corner we're all ready for the flavors of winter. Gingerbread and peppermint are two of my favorite things about winter time. I love how refreshing homemade gingerbread is, with the perfect combination of spicy and sweet. Gingerbread makes everything better, from coffee to brownies, cocktails to cupcakes. In honor of National Gingerbread Day (and winter), we've come up with ten creative and delicious gingerbread recipes that will have your mouth watering!
The only thing better than a chewy chocolate chip cookie is a chewy gingerbread cookies. These babies practically melt in your mouth and are the perfect amount of sweet and delicious. The molasses in this recipe gives these cookies a really rich flavor.Yum!
Whoopie pies make a great snack or a delicious sweet treat after dinner. They also make great gifts and are a huge hit during the holidays. These gingerbread whoopie pies are filled with vanilla buttercream and are sure to be a crowd pleaser this holiday season.
This delicious frozen shake makes a great seasonal snack. made with coffee, non-fat milk, and fat free whipped cream, this gingerbread frappe is just the pick me up you're looking for this holiday season. This drink is good enough to be a milkshake but healthy enough to enjoy without feeling guilty. Want to make it healthier? Try adding some vanilla or cinnamon protein powder and half of a frozen banana to enjoy this delicious drink as a healthy protein shake!
Pumpkin and gingerbread make a great combination. This pumpkin gingerbread loaf is made with cinnamon, nutmeg, ginger, cloves, molasses and allspice to bring out the best flavors of both pumpkin and gingerbread. You could use whole wheat flour instead of all purpose flour in this recipe to make it a little healthier. Made with unsweetened applesauce, this loaf is perfect for breakfast, a snack, or dessert. I love breads like this in the morning, served warm with low fat cream cheese and a cup of chai tea!
Perfect for your holiday party or a get together with friends, this gingerbread martini is inventive and delicious. Enjoy all of the flavors of gingerbread and the holiday season in this amazing seasonal cocktail. Made with Kahlua, vanilla vodka, Bailey's, and gingerbread syrup this drink is sure to be a crowd pleaser. (Please enjoy responsibly)
These chocolate gingerbread macarons make the perfect gift this holiday season. You can wrap them in a decorative box or even serve them at your holiday parties this season. Made with almonds, unsweetened cocoa powder, and egg whites, these macarons are a perfect sweet treat that doesn't pack in too many calories.
Gingerbread Waffles via Isn't Everything in the Kitchen Trial and Error?
Gingerbread waffles make the best seasonal breakfast. Warm, sweet, and full of spices, these waffles are perfect for breakfast (or dinner) with chai tea and a good book. This recipe uses all purpose flour but you could easily use whole wheat flour or spelt flour instead. Try this waffle recipe with fresh fruit and cinnamon for a great breakfast everyone will enjoy.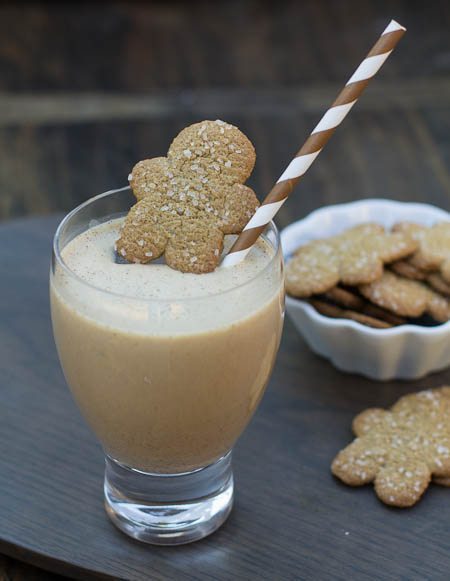 Want a delicious 'milkshake' packed with protein and perfect for breakfast? Try this delicious and nutritious gingerbread protein shake. This shake tastes just like a dessert milkshake but is made with vanilla and chocolate protein powder, Greek yogurt, and vanilla almond milk so you can enjoy this without feeling guilty.

These scones are full of flavor and make a great seasonal breakfast or snack. Try serving these scones with fresh jam for a breakfast everyone will enjoy. This recipe uses spelt flour and soy milk to keep these scones on the healthy side. Perfect for fall and early winter, try these scones with hot tea for a delicious and filling breakfast.

Sometimes you need a little pick-me-up. This gingerbread rum latte is the perfect solution. Made with coffee, dark rum, and gingerbread syrup, this sweet drink is great for serving at holiday parties or for enjoying after dinner on a chilly November evening. (please enjoy responsibly).
What's your favorite way to enjoy Gingerbread?